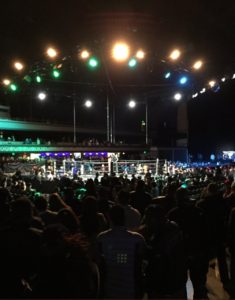 by
Jake Walther ©
Friday night, April 13, 2018 marked 45 years since a boxing match was held at the Minneapolis Armory.  The newly renovated, reopened and quite extravagant field house venue packed around 3,500 fans with emotions on full display, creating tension between different fighter's factions throughout the night.  It was great to have live boxing back in downtown Minneapolis, Minnesota with a total of 10 fights.
The card, promoted by Premier Boxing Champions, featured five bouts before the live telecast which was broadcast on Fox Sports 1. Within the crop of competitors in the ten bouts, there were six local fighters from the surrounding area putting their talents on display.
Minneapolis southpaw Marlin "So Icy" Sims won his second professional fight, improving to (2-0, 1KO), with a 4-round unanimous decision over Carl Currie of Illinois,( 0-7-1).  The next contest, held in the super welterweight division, saw Uriel Lara, of Coon Rapids, MN, improve to (3-0, 2KO) by sweeping all 4 rounds for a unanimous decision over Michigan's Thomas Amaro, (4-14-1, 3KO).
Giezwa "Gizzy" Hobbs, (2-0), also of Minneapolis, outpointed Raymond Chacon of Los Angeles, California, in a 4-round super featherweight matchup.  Hobbs used his speed to his advantage and stayed a step ahead of Chacon early in the fight landing a flush right hand midway through round two that had Chacon stunned briefly.  Chacon rallied back, landing a few good flurries to gain back some momentum to end of the round.  Hobbs continued to box nicely and control good distance with his footwork in Round 3, landing solid punches, eventually causing a small cut over the Chacon's right eye.  Hobbs continued to control most of Round 4 with Chacon having his moments but struggling to keep up with speed and accuracy from Hobbs, who finished out the round strongly in route to a well-earned unanimous decision.
In another super welterweight contest, Celso Ramirez, (7-0, 7KO), of Minneapolis, MN made quick work of Brandon "The Business" Baue, (12-13-10KO), of Troy, Missouri, landing a quick right hand early to score a flash knockdown, Baue dropping to his knee for a moment before getting back up, clearly shaken.  Celso continued the pressure with combinations before trapping Baue in the corner and unleashing a beautiful 3-punch combination that ended with a right hook to the body, sending Baue back to the canvas for, good earning a knockout mid-way through the first round.  It was business as usual for the young Ramirez, who at just 20 years old improves to (7-0), all seven wins coming by way of KO.
Haskell Rhodes, (26-2-1-12KO), of Las Vegas, Nevada squared off against Mike Fowler,( 6-14, 2KO) of Milwaukee, Wisconsin in a 6-Round Lightweight contest.  Rhodes dominated most of the contest with the taller Fowler retreating to the ropes often.  Rhodes used his speed and targeted body attack early on to wear down Fowler who abandoned his jab and height, allowing Rhodes to maintain control of the ring.  A counter left hand from Rhodes stunned Fowler early in round 3 with trash talk ensuing between both fighters.  Fowler managed to land a clean lead left hand early in Round 4 but Rhodes continued to press the action and landed a flush right hand to stun Fowler again at the end of the round.  The last two rounds featured more of the same with Rhodes landing nicely to the body, keeping Fowler against the ropes. Fowler managed to get a few shots off at points but, nothing to disrupt the constant pressure from Rhodes.  All three judges scored the bout for Rhodes for a unanimous decision victory.
Seventeen-year-old super welterweight prospect Joey Spencer, (2-0, 1KO), from Linden, Michigan, needed only 58 seconds to dismantle Ousmane Sylla (1-4-1, 1KO) of Anchorage, Alaska.  A short-left hook from Spencer knocked Sylla to the canvas in one of the first exchanges to start the round.  Sylla recovered right away but was clearly dazed.  Spencer pounced on Sylla immediately, landing a nice right uppercut followed by a left hook to the temple of Sylla, who went down again, forcing the referee to step in, waving his arms.  It was an impressive performance from Spencer, who should have a bright future ahead of him.
The Live telecast on Fox Sports 1 began with a pair of undefeated featherweights, Chris Colbert, (8-0-3KO), of Brooklyn, New York scoring a 7th Round TKO over Austin Dulay, (11-1,-8KO), of Nashville, TN.  Both fighters were sharp early boxing nice trying to find range over one another.  Colbert began switching to orthodox stance throughout the 3rd round trying to disrupt the rhythm of Dulay.  Colbert boxing nicely getting the better of the exchanges between the two.  The middle rounds found Colbert taking control of the fight landing some solid uppercuts inside and timing his combinations to beat Dulay to the punch.  By the 7th round Dulay just had no answers for Colbert's attack who was well ahead at this point.  Dulays corner had seen enough as they threw in the towel prior to the 8th round, giving Colbert the TKO victory.
The second televised fight featured was another exciting 8-round matchup between undefeated super welterweights, featuring hard hitting Minneapolis puncher Ve Shawn Owens (9-1,-9KO), and the astonishingly tall Sebastian "The Towering Inferno" Fundora, (9-0-4KO), out of Coachella, California.  This was a classic phone booth fight inside from start to finish, with Owens attacking early inside, attempting to take away the range from the 6'-6" Fundora.  Fundora's uppercut was a go to weapon, finding the chin of Owens early, earning his respect.  Owens targeted the body in the second round to break Fundora down but Fondora could gauge his distance a little more with some solid jabs and lead left hands.  Owens came out swinging with some big right hands in the third round, doing anything he could to remain on the inside.  Fundora kept catching Owens from all angles, using his long arms to fire short punches inside on Owens.  By the fourth round Owens was visibly tired, leaving himself open to counters and uppercuts from Fundora.  Owens had his moments, landing some big right hands but nothing to shake up Fundora.  By the fifth round Owens had little left in the gas tank and was getting tagged at will by Fundora, who kept the pressure on Owens, landing a series of combinations before the referee stopped the fight.  Fondora improved to (10-0) with the TKO victory while Owens suffered his first career loss.
Veteran lightweight Edner Cherry (37-7-2, 19KO), of Nassau, Bahamas earned a comfortable 10 round decision over the much younger Dennis Galarza, (16-3, 9KO), of Orlando, Florida in the last fight before the main event.  Galarza got off to a quick start in the early rounds, keeping Cherry at range with his punches.  Cherry worked his combinations inside on Galarza, trying to take away distance from Galarza.  It was youth vs. experience as Cherry began to find his rhythm in the middle rounds.  Cherry began to cut off the ring on Galarza and close the distance with accurate body work inside.  Cherry was in full control of the fight by round 7, frustrating Galarza with his movement and pressure.  Galarza faded down the stretch as Cherry continued to land the better punches in route to an easy unanimous decision.
The main event of the evening had rising contender, Minneapolis boxer Jamal James (23-1, 10KO) earning a hard-fought majority decision over 10-rounds against the durable Abel Ramos (18-3-2, 13KO), of Phoenix, AZ.  The start of round 1 showed James circling and moving nicely, creating range with his long jab.  The shorter Ramos was moving his head nicely to close the gap on James.  Early in Round 2, Ramos caught James in the corner with a combination that seemingly had James hurt.  James retreated to the side along the ropes with shaky legs moving away from Ramos to regain his composure.  The third round had James staying on the outside while Ramos could have his moments inside with some nice body work and combinations.  James worked some nice 1-2 combinations in the fourth, circling away from Ramos' power, establishing a nice rhythm.  Ramos continued to try and cut the ring off on James, getting some nice punches off throughout the fifth.  James used his height and movement to keep Ramos at bay, landing nice shots of his own in a round I gave to James.  James seemed slightly ahead midway through the fight, with Ramos showing great heart as he continued to stalk James and try to pin him against the ropes.  Both fighter's strong chins were on display, taking clean punches from one another, each having his moments.  Ramos came on strong in the later rounds, backing up James, who fended off Ramos with more solid jabs and right-hand counters.  Ramos had a strong 9th round ,backing James up with his pressure, opening a cut over the right eye of James midway through the round.  James came out in the 10th using his height to box Ramos on the outside while Ramos tried to close the gap in distance to finish strong.  At the end of the bell both fighters received a standing applause from the crowd in anticipation of the judges scores.  In the end, the scores read 95-95 and 96-94 twice in favor of James for the much-deserved Majority Decision.  James grabbed a win in front of his hometown fans and should be in a better position for a world championship title shot later this in the welterweight division.
Overall, it was a fantastic night for boxing in Minnesota with plenty of local fighters having the chance to showcase their skills in front of their hometown.  The Armory presents of fantastic atmosphere and I hope they continue to stay consistent with more fights in the future.