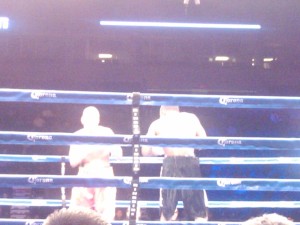 Current USBA middleweight champion, Minnesota's Caleb "Golden" Truax, fought to a draw in a very close and rugged battle with Ossie "the Ghanaian Gladiator" Duran Friday night at the Target Center in Minneapolis. In a rare occurrence, the judges, all from Minnesota, arrived at a unanimous decision, each scoring the fight 95-95.
Truax started out fast in the first, bring the fight to Duran, working the jab and going to the body, but Duran made the fight close from the opening bell. While Truax was busier Duran's punches were a little more accurate and his defense effective as he blocked a number of Truax's punches. Truax appeared to be getting the advantage on numerous occasions, but he could never run away with the momentum. From the press table it was easy to believe Truax ahead, although the rounds were difficult to score because they weren't one sided enough to presume definitively how the judges would see it. In the third round it was visible that Duran's jab was effective, drawing blood from Truax's nose that remained a mild presence till the end. Truax, however, would land effectively to the body and sneak in an uppercut or land a right hand through the outside corner of Duran's high guard, seeming to gain an advantage that would win any given round. But Duran would sneak in a right hand or land effective combinations at key points to prevent rounds being stolen from him.
Overall the fight was very entertaining with both fighters displaying excellent skill and tremendous effort.
Rances Barthelemy, who was lucky enough to escape the repression of Cuba to pursue his professional boxing career out of Miami, rested the IBF superfeatherweight championship from Argenis Mendez with a knockout coming officially at 2:59 of the 2nd round. While Barthelemy, now 20-0, 13 KOs, had Mendez, now 21-3-11 KOs, on the canvas near the end of the round and went to work on him as the action resumed, the knockout left hook came as Barthelemy continued punching after the bell had rung twice.
Although Mendez was in definite trouble and Barthelemy was in the momentum of a combination, the referee should have stopped the action. Barthelemy did not appear to have intentionally punched after the bell and the momentum of the fight was already in his favor to the point that he most likely would have won regardless, but hopefully a future rematch will give Mendez, Brooklyn, NY by way of the Dominican Republic, a chance at redemption and Barthelemy a chance to erase any controversy.
Minneapolis native Javontae Starks won a split decision over Limberth Ponce of Rock Island, IL. Starks began the fight with a strong jab and skillful movement, timing Ponce with excellent combinations. Starks continuously landed the right hand to the head after the jab, following it up with a strong left uppercut to the liver. He also skillfully timed solid lead left hooks that caught Ponce coming in. Also, he put Ponce down with a left hok in the second round. While judge John Mariano had the fight 57-56 Ponce, now 6-1, 4KOs, both Tim Taggart and Mike Fitzgerald had it 57-56 for Starks, now 8-0, 5 KOs in a fight that seemed more clearly in Starks' favor.
Minnesota lightweight champion Tony Lee of St. Paul successfully defended his title with a unanimous decision over Wilshaun Boxley of Coon Rapids. While Boxley started strong and landed some very effective punches, Lee was able to control the momentum of the fight, out jabbing and out maneuvering the skillful Boxley, who fought very well in spite of a long period of inactivity.
Lightweight Adrian Martinez, Milwaukee, WI, improved to 2-0-1, 1 KO, with a 3rd round knockout of Trevor Marmon, Duluth, 1-1-1, 1KO. Both last competed against each other, fighting to a draw. While the southpaw Marmon began this rematch aggressively, landing effective, powerful punches, Martinez was able to control the fight with movement, a good jab, and very effective body punches that set up the hook. It was unclear from the press table if the body shots or the hook to the head did the most damage, but the combination of the two was more than Marmon could handle at this time.
Welterweight Erickson Lubin, Miami, FL, won via 1st round knockout over Luis Santiago of Canovanas, Puerto Rico in a battle of southpaws that ended when Lubin landed a left uppercut to the head inside that drove Canovanas to the ropes where he was pummeled with a short series of punches, the last a grazing right hook, that sent him to the canvas.
Junior middleweight Damion Hill (a Boxers and Writers Magazine nemesis, see October articles), improved to 2-3 with a split decision over Nate Richardson in a hard fought battle in which Hill demonstrated his technical improvement and Richardson showed a tremendous amount of courage.
Super featherweight Dennis Galarza, Orlando, FL, improved to 2-0, 1 KO, with a unanimous decision over Celiel Castillo, San Juan, Puerto Rico, who was making his professional debut.
by  Mark Connor