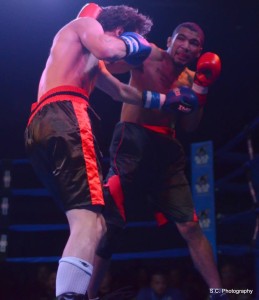 I have to say that the article I published earlier today chronicling the experience of my first professional fight more than 19 years after ending my amateur boxing career focused a great deal on the things I did wrong and on challenging circumstances I faced leading up to the fight. But the truth is that I would not have lost if junior middleweight Damion Hill didn't have a hard punch, wasn't a solid athlete, and didn't train hard and fight with determination. He did all those things and very well deserved the technical decision he was awarded after an accidental head butt forced the fight's stoppage as I sustained a cut that took 15 stitches about an inch over my right eyebrow.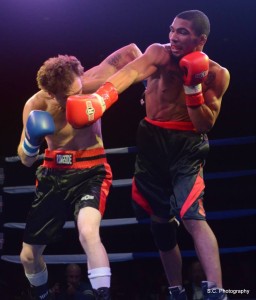 I have spoken since with two of Hill's corner men and had good conversation immediately after the fight with Hill himself. One thing I had not realized was that in his last fight, which ended after he was injured to the ribs from a blow by local rising star Rob Brandt (whose original coach, Emmett Yanez, is the same man who taught me to box 34 years ago) was at the 168 pound super middleweight division. The men at that division are big and strong and hit hard. It takes great determination for a man to drop all the way down to an agreed limit of 149 as Hill did to fight me. He deserves a lot of credit for replenishing himself after that struggle to be strong enough for our fight. I did land some good punches before the fight ended, but never got him into the trouble necessary to turn the tide before the head butt happened.
A third corner man of Hill's shook hands with me in the ring after the fight but I did not get the chance to talk to him. It was only later that I learned his name is Gregorio Maso, a recent Cuban immigrant who was on the Cuban national team when the legendary Heavyweight Teofolo Stevenson was still fighting and still on the team. I have spoken with trainer James Clark who will arrange a meeting between me and Gergorio in the near future. It will be very interesting to speak with this trainer who is strongly connected to an important part of international amateur boxing history. In the meantime readers can learn about Gregorio from an article published in the Pioneer Press in 2011 by writer Ruben Rosario at http://www.twincities.com/news/ci_18395563.
by Mark Connor