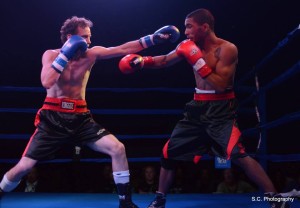 I lost a frustrating professional boxing match on Saturday, October 19 at Black Bear Casino on the Fon Du Lac Chippewa American Indian Reservation against a junior middleweight named Damion Hill. After an accidental head butt from Hill opened a cut over my right eye requiring 15 stitches, the fight was stopped and he won a unanimous technical decision. He does not have near the experience in boxing that I have but he is bigger and stronger and hits hard when he's able to connect. I should have been able to beat him but after 19 years since my last amateur fight this professional debut was a lot more difficult than I'd planned. I wish to describe for you exactly what happened, explaining why I lost and what I had to do if I could have had a chance to win. That's the whole point of boxing at this point in my life, to write about it in order to enhance the fan's experience, helping you to understand exactly how boxing works and how it's done. I intended to be writing this about how I won but since I did not I'll have to do the next best thing and tell you what happened from the loser's point of view.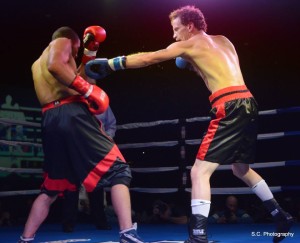 The first thing I'll do is tell you everything that went wrong and admit my short comings in defeat. The next thing I'll do is tell you what I intended to accomplish in the ring and explain how that works when it's done correctly. Finally, at the end of the article, I will give you my excuses. I know; excuses don't make anything better. They certainly don't fix a loss and they never produce a win. Still, they are factual observations a student of boxing should find valuable and if you read the entire article I'm sure you will benefit from it. Finally, if you don't want to read the excuses, well, it's good I'm putting them at the end instead of the beginning.
I lost this fight by not getting my punches off first. That was the first problem. Hill is an awkward southpaw and although I don't believe you have to only move to the left on a southpaw I wanted to start moving that way and only move to the right at specific times when I wanted to land punches from that angle. But his physical presence in the ring seemed to compel me to move to the right. Nevertheless, I was able to land punches on him. The punches he landed, most of them not entirely flush on target, had some power behind them. Although our contractual catch weight was 149 Hill (who spent two and a half hours dropping from an original weigh-in of 150.8) rehydrated and ate back up to at least 165 pounds, which he explained to me after the fight. I was still light and although I did not weigh again before the fight I can't believe I topped 148 and believe I was probably still 145. I was able to land the jab on him but was just not pumping it with the rhythm and authority I have when I'm sharp. I landed some good right hands but could not land the serious hooks I needed or step to the side to land continuous body shots and uppercuts like I'd planned. In short I fought very stale. You can say it's because I'm 44 years old and fought a man who is 21. That may have something to do with it and I may not want to admit that. I am very aware of that possibility. But one thing people—from other trainers to officials to fans—told me in complete agreement with each other is how obvious it was that I was there to fight the whole night and I am definitely in shape. What most don't know are the extenuating circumstances leading up to the fight. Some of them were minor glitches in the whole endeavor but the excess to which they existed compounded on each other, exacerbating any obstacles that were already in the way.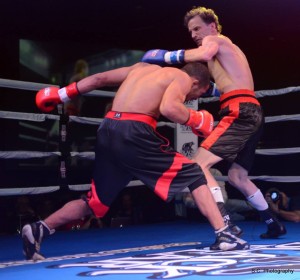 I negotiated this fight with Zach Walters after a fight he tried to set up with me and Hector Orozco last July fell through. In early August he first offered me Ricky Smith who lost to Rondale Hubbert (a man I'd sparred with before) in July and I was ready to fight him, but that fell through and Hill was offered. I watched video of Hill losing a fight last April to Hubbert. I figured I'd beat Hill. I didn't think the size difference was going to bother me that much but it did. Psychologically it would have been easier to deal with had I not been abandoned by my trainer, Dennis Presley. A world class trainer who is a genius at analyzing fight situations and providing motivation, Presley had trained me last spring for the fight planned in July and he came back in August to help me with this fight. But I only got him to the gym twice a week and with three weeks before the fight he started blowing off training sessions. The Monday before the fight he simply turned his back on me, telling me to get lost. The only possible partial excuse I can grant him is his memory appears to be rapidly slipping. He is a close friend and I did need him, especially fighting someone so big and strong in my first professional competition after a 19 year layoff.
The second obstacle I faced before this fight was a rib injury. Bobby Zamora, the amateur coach I left in 1992 to go to Dennis, was tapped as a cut man to help Dennis in the corner. Four days prior to the fight he became the lead corner man. He hasn't led a corner since at least 2005, maybe even in ten years or more. At the gym the Wednesday before fight week I failed to inform him the man he suggested I spar with was USBA middleweight champion CalebTruax, who's ranked 13 by the IBF and attempting to get a world title shot as soon as he can. I shouldn't have sparred with someone that powerful so close to the fight. I got out of the ring after three rounds with Truax, who reaches over 170 pounds but I suspect pushes 180 between fights, with my ribs bruised up badly enough that it hurt to punch the heavy bag and I got X-rayed by my doctor on Friday. My doctor wrote a letter for me to give the Black Bear Boxing Commission explaining that I could not recover on time to "safely and effectively" compete. However, I just stretched, shadowboxed, jumped rope and ran for the next eight days and was healed up enough to hit the heavy bag two days before the fight. So I left the doctor's letter at home and went north to fight.
Zamora made the two hour trip with me up to the reservation and cut man Pat Jones met us up there on Saturday a few hours before the fight. I had planned on ordering adrenalin for cut medicine in the corner two weeks earlier but Zamora thought he had some. However, he did not. Jones had come up on short notice and he usually uses a type of medicine not allowed in the corner at Black Bear. So my corner was scrambling to get the necessary medicine up to the last half hour before we had to be in the locker room. There were other things that went wrong but I won't go into them. What I will say, though, is that after the first round ended and I went back to the corner I realized immediately that we weren't synchronized. Don't get me wrong, I really love Bobby Zamora and was grateful for his support in my life as a boxer. But with the sudden disappearance of Presley there just wasn't enough time for me and Zamora to acclimate to each other again.
The loss felt fairly embarrassing to me, but to my surprise afterward people in the crowd kept telling me how impressed they were. I think it's because of the long layoff and the age that people congratulated me but it could never be as good as a win. I wish to have a fight at a more appropriate weight for me, preferably down to 140 pounds with an agreement that neither fighter can enter the ring on fight night weighing over 146. I have to find the resources to prepare, though. I have to form a corner with which I am comfortable and also have the time to train the way I did for this fight. I wasn't sharp because Presley wasn't with me to the last half of camp working with the hand pads and I didn't get enough sparring, but anyone who saw the fight has to admit I was in very good shape. So long as I can enter the ring not just in shape but also sharp I am sure I can win. God willing, that will happen this year. In the meantime, I will continue writing about boxing. I will write a little more about the experience of this fight and continue writing about other features of the boxing world. Thank you for reading and visit this site frequently to read more.
I'll still be boxing and I'll still be writing, as long as I can.
by Mark Connor