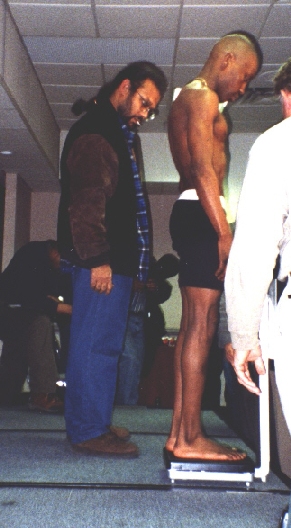 This page is named for the last man to train me as a boxer, Dennis Presley. He also trained my contemporary, Will Grigsby, who eventually became International Boxing Federation (IBF) World Junior Flyweight Champion twice, and World Boxing Organization (WBO) World Junior Flyweight Champion once. That's quite an accomplishment, considering that the only other World Champion from Minnesota was another St. Paul resident, Middleweight Mike O'Dowd, who fought from 1913 to 1923. Between 1994 and 1996 I sparred with Grigsby until he won the United States Boxing Association Flyweight title, and also helped Presley in his corner. I will share the wealth of knowledge I was exposed to at that time, entertaining the reader, listener and viewer in an educational way.
A slightly eccentric friend of mine who is a Muhammad Ali fanatic and lover of all things classic (especially American classic) referred to Presley as "King of the Ring" because he admired Presley's intellectual understanding of boxing and ability to teach it effectively enough to develop champions, and because his last name is the same as the King of Rock and Roll. Interestingly enough, Dennis Presley has said he has relatives in Mississippi near to where Elvis is from, but makes no claim of relations. Regardless, Dennis Presley has always had a unique ability to predict the outcome of major fights, and some of my most enjoyable conversations are the discussions we have about boxing.
Throughout this site I will be reviewing and recommending literary works that are somehow related to boxing. One book I bought in the 1990s and had long discussions with Dennis Presley about after he also read it is In the Corner: Great Boxing Trainers Talk About Their Art by Dave Anderson. It includes words of wisdom from Eddie Futch, Angelo Dundee, George Benton, Ray Arcel, Kevin Rooney, Goody Petronelli, Jackie McCoy, Bill Slayton, Lou Duva, Emanuel Steward, Gil Clancy, and Richie Giachetti.
In the Corner: Great Boxing Trainers Talk About Their Art
My advice to young children and teenagers who want to be good at boxing is to always learn from the best. This book will help you do just that.