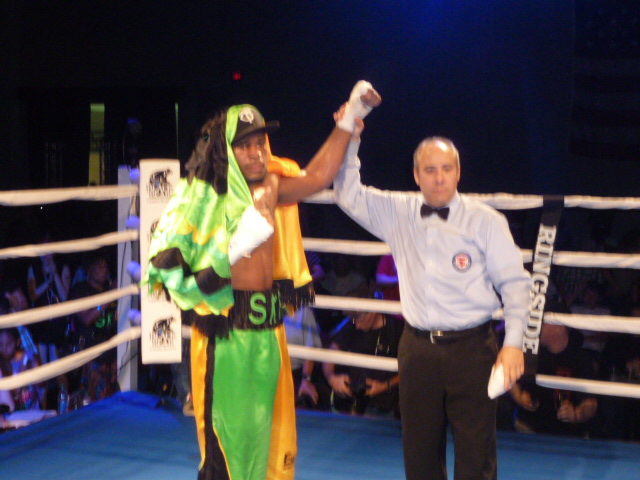 St. Paul, Minnesota's Cerresso Fort, 17-1-1, 11 KOs, easily defeated Marcus Upshaw, 15-10-2, 7 KOs, of Jacksonville, FL with an 8 round unanimous decision Saturday night at Black Bear Casino in Carlton, MN. The fight was a rematch to settle their 6 round draw from September 2011 in Tampa, FL. This was by far the best performance of Fort's career, the difference obviously coming from the addition of former junior flyweight champion Will Grigsby as lead trainer to his corner. Fort has had a number of trainers thus far, but this performance marks the first time he has had the focused instruction rooted in the analytical approach of Grigsby's trainer, Dennis Presley, that enabled Fort to establish a rhythm from the beginning of the first round that Upshaw could never break.
Fort corrected the lazy, ineffective jab of his only loss (suffered against John Jackson in April), throwing instead more jabs than ever before, landing them with enough authority to set up his right hand follow-through combinations. If he didn't throw a hook to the head after the right he usually turned his left up into the liver followed by the hook or right, then headed the advice shouted by Grigsby from the corner to move "side to side." After landing combinations he would make that side movement and upon Upshaw's advance circle around the ring and pick a spot to reestablish his jab and land more combinations. At times he would step off to the right, moving the fight towards the ropes, then circle to the left, grabbing wide open ring space from which he could attack.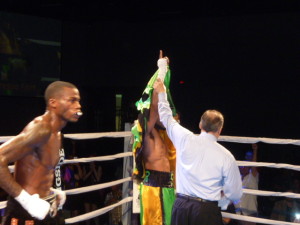 There are still some bad habits Fort has yet to break, the most obvious being his tendency to pull his right hand back with elbow out when throwing his left jab, but he jabbed more in this fight than ever before and the pressure set up combinations to which Upshaw could not adjust. Upshaw put up a good fight and made each round competitive and was never in trouble, even though an obvious slip in the 6th round with no punch landing on him was mistakenly scored a knockdown by referee Mark Nelson. Also, Fort's right hand can definitely be shortened a bit and he appeared to fight his tendency to lunge with it on occasion. But he kept his head behind his left knee and maneuvered it well enough after punching to keep from smothering himself, which is why he was able to win exchange after exchange all night to compile a lopsided victory. The official score cards read 80-71, 78-73, and 79-72. Because of the knockdown in the 6th, your Boxers and Writers Magazine score was 80-71, although Fort's shutout would have otherwise been 80-72.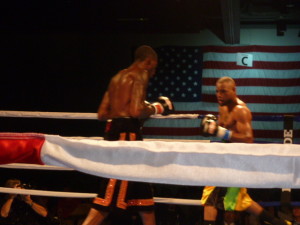 A closing note on Fort-Upshaw: As a boxer trained by Dennis Presley for amateur competition who sparred with Grigsby up to his winning the USBA flyweight championship in 1996 and eventually assisted Presley in training another professional fighter, witnessing Grigsby's debut in the corner was very interesting. "How much of what you told him was Dennis and how much was Bonani," I asked Grigsby in the ring after the decision, referring to Al Bonani who joined Presley in the corner when Grigsby was promoted by Don King. "Man, it was all Dennis; you know that," Grigsby replied. Of course I did.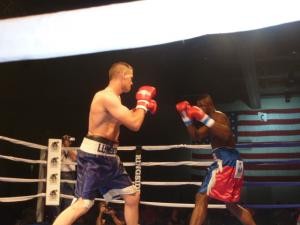 In the co-main event Minnesota cruiserweight champion Al "Haitian Temptation" Sands made easy work of a grossly overmatched Justin Howes of West Virginia. Howes first keeled forward against the ropes after taking a left uppercut that sunk deeply into his solar plexus and seemed ready to go down. But he weathered the Sands storm against the ropes before timing a good right hand and attempting to stage a counter attack at the end of round 1. But in round 2 Howes tried to adjust to punishment from Sands by switching southpaw. He couldn't fight effectively from the left-handed position. Back in the orthodox stance and in a corner Howes got caught with a lead right hand that dropped him and prompted referee Scott Erickson to call the bout after Howes rose to his feet but remained very wobbly at the count of 9.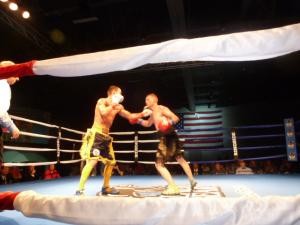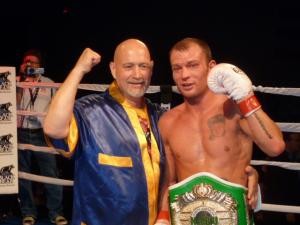 In his first attempted defense of the NABU lightweight title Duluth's Gary Eyer, 11-3, 7 KOs, lost to the excellent boxing of Robbie Cannon, Festus, MO, 13-8-4, 6 KOs. Eyer, living up to his nickname of "Stone Cold," continued to relentlessly pursue Cannon but was constantly caught coming in. Cannon boxed Eyer almost perfectly to Eyer's style, catching him with the jab, moving, turning combinations of punches over and up every round. Eyer was open for the right hand the whole fight, his left eye swelling up from the second round on and Cannon's punch never seeming to miss. Also, Cannon followed up the right with hooks to the head or left uppercuts to the liver followed by hooks to the head and sometimes right hands at the end. He punched well to both sides of the body too, the liver shot and the left uppercut to the head making a major difference in punches landed. Eyer was off balance from Cannon's movement and in spite of his best effort and occasional timing of the left hook on Cannon was unable to do damage and lost a unanimous decision. The judges had it 77-74, 77-74, and 79-73 for Cannon, who is now the new NABU lightweight champion. Your Boxers and Writers Magazine score was 79-72, Cannon.
Defending his Mid America super featherweight title that he won back in October, Ismail Muwendo of St. Paul handled the effective jabs of Carlos Fulgencio, who seemed to be a competitive challenger early in round one but quickly faded as on the inside Muwendo landed his signature body punches. In the second round Muwendo scored a knockdown after having punished the body and Fulgencio seemed to be quitting, walking back to his corner when referee Scott Erickson appeared to have persuaded him to continue as he motioned him to fight. Fulgencio almost immediately ended up on the ropes and was stopped by a Muwendo combination.
Welterweight Rondale Hubbert of Minneapolis won a unanimous decision, presumably having won three of four rounds on all judge's cards, each of whom saw it 39-37. Boxers and Writers Magazine saw it as a 38-38 draw.
Junior featherweight Brad Heroff, 3-0, knocked out Randi Ronchi, 0-9, 9 losses by KO, with one punch when he found his target at 2:37 of the first round. At one point a minute or more into the round Ronchi turned to his corner and yelled that he did not have his mouthpiece in. No reporters at ringside saw the mouthpiece ever fly out of his mouth and although the exact detail is unclear, it appeared that he began the fight without having put it in. Either way, this knockout loss is Ronchi's 9th in 9 fights. To call it a gross mismatch is an insulting understatement. Ronchi must quit boxing soon because he's on his way to being seriously injured. Heroff's original opponent had fallen through and Ronchi was available, but at this point it's hard to imagine where in the United States he's going to get another boxing license.
Middleweight Stephan Watt, 2-1, knocked out debuting Bobby Johnson, 0-1 at 2:13 of the first round, and DeWayne Wisdom, 3-10, won a unanimous decision over James Owens, 4-11, with scores of 40-36, 40-36, and 39-37.
by Mark Connor