From the moment the U.S. shut down over the Covid-19 Virus, I've been waiting for it to reopen, like everyone else, I suppose, experiencing the novelty in my own way. I have been trying to adjust, trying to reorganize myself and be productive, tying to be in decent shape and ready myself to hit the ground running as soon as our economy is fully open again. I've also seen people suffer and felt deep sympathy for those I can not help, particularly my friends and colleagues living in New York. In the New York Boxing community two men who are important there and to the larger world of Boxing, died from this terrible plague.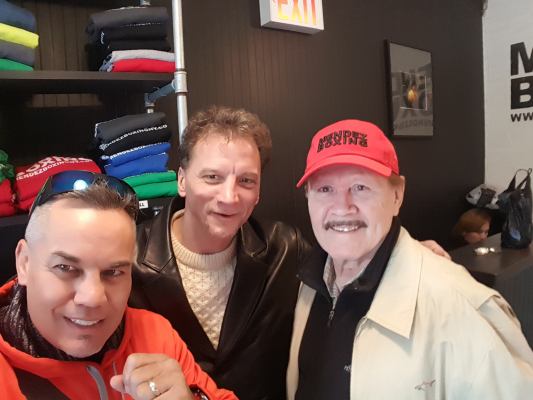 The first of these men is Nelson Cuevas, 80, who died on March 27. A native of Puerto Rico, Cuevas was a famed trainer and cut man. As noted in an article by Keith Idec on the web site of Boxing Scene, Cuevas worked with world lightweight champion Carlos Ortiz when he made a comeback. He also worked with other greats like James 'Buddy' McGirt and Vinnie Pazienza, and excellent contenders Howard Davis, Jr. and Ernie Shavers. Cuevas was a professional welterweight from 1964 to 1970 and trained under Cus D'Amato, who, Idec notes, convinced Cuevas to become a trainer. He ran Apollo Gym in the Bronx, where Mike Tyson would sometimes train as an amateur. Idec also notes that Cuevas learned the cut man trade from Chickie Ferrara, who was cut man to Muhammad Ali and Rocky Marciano. Cuevas was inducted into the New Jersey Boxing Hall of Fame last fall, on November 14, 2019. In late October, 2018, I was introduced to Cuevas at Mendez Gym in Manhattan, by trainer Ricky Ray Taylor.
"I saw Nelson in the gym every day for the last 20 years," says Taylor, author of Punches and Prayers, an autobiography I reviewed last year. "He had the biggest locker with all kinds of tools. He would repair everything and keep the gym running." Nelson Cuevas was a wealth of knowledge who was always helpful and commanded overwhelming respect, Taylor explained. He mentored many young men over the years and will be greatly missed by all who knew him. Luckily, though, his knowledge and the respect he showed will live on through the boxers and trainers who were lucky enough to work with him.
The second loss to Covid-19 in New York came right in the same location, Mendez Gym, when its founder, Francisco Mendez, 61, died on April 21. An immigrant from Puebla, Mexico, Mendez came to New York in his early 20s, in 1980. According to Ryan Songalia on the web site of The Ring Magazine, Mendez Gym first opened on East 32nd Street in 2004 and has operated out of its current location near Madison Square Park at 23 East 26th Street, an 8,000 square foot facility, since 2012. Mendez's son, Frankie Mendez, says the gym will reopen "once New York lifts its restrictions," the article quotes.
It has been a privilege the times I've visited Mendez Gym, where I met Taylor in 2015. I for one am eager to see restrictions across our country slowly lift, although I know gyms in my hometown of St. Paul, Minnesota and around the country won't open before June. I am scheduled to be in New York next October and sincerely hope I am able to visit Mendez Boxing Gym.