Sat., August 31, 2019
In a supreme display of boxing skill Saturday night at the Minneapolis Armory, Erislandy the American Dream Lara TKO'd Ramon Alvarez to reclaim the vacant WBA super welterweight title at the Minneapolis Armory. With this victory over Alvarez of Guadalajara, Mexico, Lara, originally from Guantanamo, Cuba, regained the title he lost to Jarrett Hurd via split decision on April 7, 2018. After more than a year without a world title, Lara is now ready to take on other champions as he continues the career he defected from Cuba to pursue. He rises to 26-3-3 (15 KOs) as Alvarez stands at 28-7-3 (16 KOs).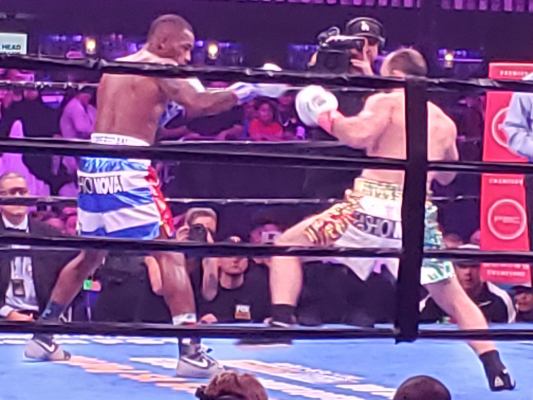 The fight started slowly, methodically, both fighters moving minimally while timing punches against each other. Lara was elusive as always with his head, landing the solid jab and countering as Alvarez failed to connect with a slipping, sliding target. In the second round, Alvarez opened up with heavy punching against Lara in the corner and on the ropes, but they landed on Lara's arms and gloves as he parried and slipped blows. Southpaw Lara landed a solid right jab, followed by a double left hand, then a one-two that sent Alvarez halfway through the ropes to score a knockdown. Alvarez did not actually hit the canvas, but he was tangled partially in between the two middle ropes, which prevented him from hitting the canvas but suspended him in the air, rendering him defenseless. Referee Mark Nelson correctly called it a knockdown and directed Lara to a neutral corner, picking up the timekeeper's count at 4. Upon the command to box, Lara opened up on Alvarez, the continuing combinations prompting Nelson to step in and stop the fight. Answering questions from reporters after the fight, Lara said he is ready to defend this title and also is ready to fight at middleweight, wishing to avenge his 2014 loss to Saul Canelllo Alvarez (Ramon's brother) and Erol Spence, Jr. He says he wants to fight the best and will prepare himself to do so.