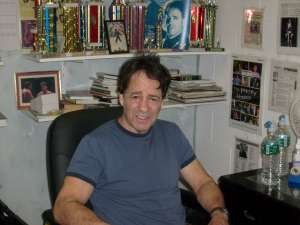 David Lawrence relaxes in his office at Gleason's Gym, Brooklyn, NY. Copyright Mark Connor, 2007
Last June I sat down at Gleason's Gym in Brooklyn, New York to talk with David "Awesome" Lawrence, the poet, boxing coach and ex-professional boxer who helped start the White Collar Boxing movement, about his upcoming autobiography, The King of White Collar Boxing. Lawrence is a charming man who loves the competitive energy of boxing and other physically challenging sports. A native of New York who formerly taught university level literature, Lawrence communicates the experience with poignant poetry and prose on the page. His last book, Lane Changes, includes many boxing poems with vivid imagery capturing the visceral experience of risking physical harm for pugilistic glory. Now shifting his literary voice to a conversational prose, The King of White Collar Boxing is his account of emotional growth through years in academia, an accumulation and loss of wealth in the business world, a crash into federal prison for income tax evasion, and a redemptive arrival at the current phase of coaching amateur and White Collar boxers at Gleason's gym. With a contagious immediacy he lures the interviewer into his picturesque memory of life lived on a dramatic edge, accentuating the infinite value of human existence that savors every opportunity one is fortunate enough to experience. The material of his life and the spirit in his heart promise the autobiography to be an essential read for all lovers of sports, leisure, and American culture.
"Let's put a quarter in you," I told him as I clumsily turned my digital recording device on, "and see how long you can go."
"Believe me," he said; "I can go . . ."
He first recounted to me the beginning of White Collar Boxing, the event that gave him the title of his book.
"I started the first White Collar fight at Gleason's Gym in 1991 where I fought this other guy, Dr. [Richard] Novak, who was a pro, had three fights, and I had still not yet turned pro. And we called this a White Collar fight; it was a five round fight, and Novak was a killer. He was a monster and I'd always been scared of him, but they challenged me for five hundred dollars so I couldn't back down and so I took the fight and I beat the heck out of him, which delighted me," he explained, breaking into laughter. "And I was surprised because I thought I would get killed just from the way his face looked. And that's how we started the White Collar Boxing thing at Gleason's. Now my book is not only about White Collar Boxing. It's about my amateurs, my white collars, my coming back to white collars and falling apart, the professional fights; about my business and how it fell apart and I went to jail for a couple of years on tax evasion. It's about the high life I was living when I was rich, about my life as a trainer now; about some brain damage I got while I was boxing, a number of my injuries – with my broken thumb, my separated shoulder, my broken nose – I mean a lot of injuries, and the brain damage. So it's all the fun stuff . . ."
Lawrence recounted with me his professional experience and put into perspective how he was lucky enough to have the experience that most men, without an early background in the sport, would have never been blessed with. He came to boxing relatively late to say the least, not taking it up until he was 33. He'd been teaching literature at Hunter College and been an avid and accomplished skier as well as a motorcycle enthusiast. He took up boxing because his wife, Lauren, said he had to find something less dangerous than motorcycle riding. He had his first professional fight at age 44.
"At 44 I turned pro when I was the head of a large firm on Wall Street. I was being chauffeured around in a Rolls Royce and for me to go pro was . . . an absurdity. But I just sort of bungled into it and did it and I did pretty well. I had six pro fights (of course then I went off to jail and I couldn't fight anymore) and I knocked out four people and I was knocked out twice; so all my fights ended in knockout, which means that I'm a tough hombre, because I didn't go for decisions. I don't want to win; I want to kill the guy."
The chance to fight professionally at such an old age and win the majority of fights seems similar, I suggested, to a young baseball player being able to play at the lowest level of the minor leagues, not being able to make a lot of money or become a star but still being satisfied at having done his best and getting the most out of an experience many of us dream of in our boyhood. Lawrence agreed as we turned our attention briefly to a Men's Journal cover featuring his brief career displayed on the wall of his office at Gleason's.
". . . I think it's the same thing. For that guy to make it to the minors in baseball, he is better than everybody within five square miles of where he lives . . . but he is not one of the superior ones. And I wasn't one of the superior ones, but anybody you'd meet or anybody from my background or anyone from my high school or anything wouldn't have been nearly as good as me, and that's all I wanted . . . My desire was to be a mediocre professional boxer, and I think I achieved that . . ."
David Lawrence is not someone I ever thought I'd meet when I first walked into the Mexican American Boxing club on the Eastside of St. Paul, MN and began boxing at age ten, and when I first read about White Collar Boxers in The Ring Magazine as a child I never imagined I wanted to meet him. But after getting to know him I find him inspirational, especially because after a long career of amateur boxing followed by some involvement with professionals and coaching amateurs I have trained in recent years with the idea of getting into the ring professionally to get the desire to compete out of my system before dedicating time to training professionals. With lovingly concerned family and friends worrying about me making such plans at my current age (42), a conversation with Lawrence encourages me to go for that goal if the opportunity presents itself. In the meantime, I eagerly await the chance to read The King of White Collar Boxing, an autobiography that will entertain and inspire those who will turn the page and enjoy the compelling narrative voice of David Lawrence.
Enjoy David Lawrence's poetry by purchasing his collection.
Entertain yourself by reading the words of his better half, Mrs. Lauren Lawrence, with a purchase of her book (which includes a forward by famed TV journalist Larry King), Private Dreams of Public People.
By
Mark Connor
© Copyright 2011, Mark Connor