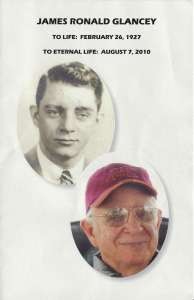 Jim Glancey, beloved Minnesota Boxing Mentor, Photographer, Coach dies at 83
On Thursday, August 19, I attended the funeral of Jim Glancey, a St. Paul boxing photographer and mentor to youth for over thirty years. Born James Ronald Glancey on February 26, 1927, he died on Saturday, August 7, 2010. Glancey, or "Glance" as we sometimes called him, was an important presence in my life and the life of Minnesota boxers for as long as I can remember. I first met him in Emmett Yanez's Mexican American Boxing Club on St. Paul's East Side, when he was hanging around taking pictures of boxers. The next year, when I was only 11, I frustratingly missed a trip he made with a team of boxers from the St. Paul area to Miami, Florida to box against a team from that city. Glancey facilitated that trip to give opportunity to local boxers, and he was able to introduce the young men with him to Angelo Dundee, Sugar Ray Leonard, and Alexis Arguello. Of course Leonard and Arguello were my idols at the time, and although I wasn't able to go Glancey made sure to bring back their autographs for me. In 1987, during my senior year of high school, I enjoyed Glancey's presence in Knoxville, Tennessee, where he joined those of us who represented the Upper Midwest Golden Gloves team at the National Golden Gloves Tournament of Champions. I was too busy with college the next year to join him on another trip he facilitated, one with the Upper Midwest Golden Gloves team to Hawaii. He also accompanied six-time Upper Midwest Champion and successful professional Mike Evgen to Ireland when Evgen represented the United States in dual meet competition against an Irish national team. But he is most well known for having run Glancey's Gym at 740 Beech Street on St. Paul's East Side from 1992 till around 2003 or 2004, where he mentored three nationally ranked amateur boxers who've gotten attention as professionals in recent years, Jason and Allen Litzau and their trusty partner, Antonio Johnson.
Jason Litzau has been the most successful so far of Glancey's protégés, whom he referred to as his "Three Musketeers." Currently he is the North American Boxing Federation (NABF) Lightweight Champion, and he challenged Robert Guererro a couple of years ago for the International Boxing Federation (IBF) World Featherweight Championship. His brother Allen is the former Minnesota State Featherweight Champion, and Johnson is currently a 7-1 Junior Middleweight looking to advance his career. When life was precarious for these three, Glancey was there for them, providing support they were unable to find elsewhere. Glancey was there for countless other young men as well, and a few young ladies in more recent years when women began to be accepted in boxing gyms. He graduated from Mechanic Arts High School and attended the College of St. Thomas (now University of St. Thomas) in St. Paul, and he also served in the United States Navy during World War II.
Jim Glancey loved his Irish heritage but loved his American citizenship even more, and he was a kind gentleman who strived to live the highest standards. When I was in high school I remember him giving me sound, traditional, manly advice rooted in the common sense of which the United States and old St. Paul were made. "Remember to be a Gentle Man," he said; "firm with men, and gentle with women." Glancey also always warned against the dangers of alcohol and drugs, used to welcome me and other boxers up to his Chisago, MN cabin to fish, and sometimes put guys up temporarily at his gym. When I was 15, after I'd avenged a close loss to a nemesis with a lopsided victory in which I scored three knockdowns, he gave me a small trophy with an inscription on it saying, "Winners Never Quit." More than 20 years later I've found myself repeating those words over and over again to pull myself through difficult situations. His death is one of those occasions wherein we boxers, who always put up a tough guy, combative front, allow ourselves to cry. But when we're through with the tears we will move on and treat other young boxers with the same kind of respect he gave us, because that's what he taught us to do. Sure, we boxers show our emotions and mourn when someone dies, but we've no excuse to dwell on it because we have a responsibility to continue living the highest possible standards, and to remember, as Glancey himself always said, "Winners Never Quit."