[Update/Note: The result of this bout has been offically changed from Disqualification to a No Contest. More coverage is forthcoming]
From the simply unexpected to the downright bizarre, Friday night's fights at the Target Center ranged from intense excitement to anticlimactic letdown, with undercard matches outshining the features and each co-main event ending in less than two rounds.
Raphael Butler appeared to be in command of the Minnesota Heavyweight Championship  fight against Joey Abell as the final 30 seconds of the first round approached. He'd been landing good combinations and winning exchanges, picking apart the southpaw Abell with jabs, hooks, right hands and body shots. He was moving well and slipping well and seemed to be establishing the kind of rhythm that propels a fighter to victory. But then suddenly Abell hit him with a solid straight left hand that seriously stunned him, and then he punched some more and knocked him down. As Butler got up he did what was necessary to survive the round and the bell rang. It clearly rang. There was no mistaking it. Then, as Butler put his hands down and was ready to return to his corner, Abell through the left again, knocking Butler out. Thereafter a melee occurred when Butler's trainer, Dan O'Connor, ran into the ring and over to Abell, attacking him, at which time Abell's corner attempted to protect him. When the incident had calmed down just a bit Abell went to Butler's corner to tell O'Connor he wasn't aware the round was over when he threw his last punch. After Butler was revived and had been awarded the victory, he was given the microphone and tried to tell the crowd Abell would get a rematch, but he could barely be heard over the boos.
In the co-main event Zack Walters of Duluth, MN was overwhelmed by Larry Sharpe of Pine Falls, Manitoba, Canada, who dropped him twice to win by knockout at 56 seconds of the 1st round. Sharpe improved to 24-4, 13 KOs, and when interviewed after the fight he announced to a round a boos from the Twin Cities crowd that he now wants to fight Matt Vanda.
"I'd been campaigning as a Junior Middleweight," he said, "and I didn't belong there. I'm a natural Super Middleweight."
Results Below.  To Read Full Story Click Here
Featherweight, 126 lbs (contractually agreed 129 lbs, or – 1)—Tomi Archambault, 130, W, TKO 2 over Ronnie Peterson, 127. Peterson was in control of first, tired in second, and retired on stool because of injured shoulder. Archambault improves to 1-1, 0, 1 KO, Peterson falls to 3-1-0, 3 KOs.
Lightweights, 135 lbs.—Gary Eyer, Duluth, MN, 133 ½ W, Unanimous Dec. over Levi Cortes, 136, St. Paul, MN. Crowd favorite Eyer won after scoring one punch knockdowns in 3rd and 5th, but took more punches than landing throughout the fight. Boxers and Writers Magazine disagrees with decision, but style analysis and explanation is forthcoming. Eyer now 7-0-1, 5 KOs, Cortes 3-1, 2 KOs
Junior Middleweights/Super Welterweights, 154 lbs.—David Peterson, Mounds View, MN, W, TKO 4, over Silas Ortley, North Dakota. Peterson pounded Ortley's soft body for three and a half rounds, the North Dakotan falling to canvas. Peterson was open and vulnerable throughout but Ortley not skilled or conditioned enough to capitalize. Peterson now 12-0,7 KOs, Ortley 4-8, 3KOs
Lightweights, 135 lbs.—Tony Lee, St. Paul, MN W, UD over Hector Orozco, Hopkins, MN. International Golden Gloves Champion Lee was fast and strong in pro debut, while Orozco proved tough and determined in dropping to 1-4. Orozco needs to improve on lesser skilled opponents, while Lee is the most promising prospect to appear on this particular card. Stylistic analysis will be forthcoming.
Heavyweights—Boris Shishporenok, Blaine, MN W KO 2 over Will Gillette, Rapid City, SD, now 0-1. A brief analysis is forthcoming.
Junior Middleweights, 154 lbs.—Saverino Garcia, Jr., St. Paul, MN W UD over Jacob Dobbe, Minneapolis, MN. Garcia picked up first win, improving to 1-0-1 with a clear victory in a competitive fight in which Dobbe showed a lot of heart and potential. Analysis forthcoming.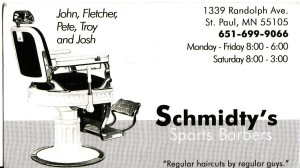 A special thanks for support from Bill Bisanz at:
Elite Destination Homes
1.866.650.4334
By
Mark Connor
© Copyright 2009, Mark Connor