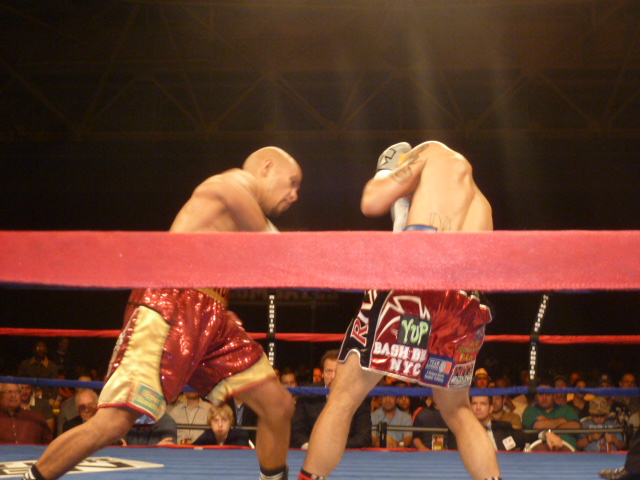 On Friday night Osseo native Caleb Truax took a major step in his professional boxing career by knocking out Donovan George in the 6th round of their scheduled 10 round middleweight bout at the Minneapolis Convention Center, broadcast on ESPN's Friday Night Fights. While the experienced and hard hitting George was determined and tough, it was evident from the opening bell that Truax was there to dominate and wouldn't be denied. Trainer Tom Halsted told me at the weigh-ins Thursday night that the strategy would be to work the jab, keep George off balance, avoid his right hand and blast him with combinations all night, and that's exactly what Truax did. Halsted told me the right hand was all George had and that after neutralizing it Truax would have no problem; an assertion that proved true.
Both fighters jabbed well throughout the fight, and George's jab is one reason he lasted the first half of the fight. Truax easily took the first two rounds, unloading enough ammunition in the second that George appeared only a punch or two from falling. But George's experience, including the ability to roll with punches, strategically clinch, and just take a solid shot to the jaw, kept him going. By the end of the 4th Truax was breathing heavy for the first time, but he was right back to work in the 5th and got George in trouble again in the 6th, pinning him to the ropes and landing a right hand below George's left ear to finish the fight. George fell forward to his left, trying to rise from the prone position as the referee waved the fight at the count of 7, George remaining on the canvas for at least a minute or two more.
Whatever is in store for Truax's next fight, the improvement since suffering his first loss a little over a year ago when he fought Jermain Taylor is remarkable. His movement is much better, his jab is sharper, stronger, and more threatening, and his determination has opened the future wide as he continues on his quest for a world title.
The main event of the evening proved to be easy work for the favored Rances Barhelemy, who took control of his 130 pound super featherweight title eliminator fight against Fashai Sakkreerin immediately. The jab of 5'-11'' Barthelemy was too much for the 5'-7'' Sakkreerin, and Bathelemy's body attack was relentless. Sakkreerin fell in a delayed reaction from a body shot in the 2nd round, unable to continue.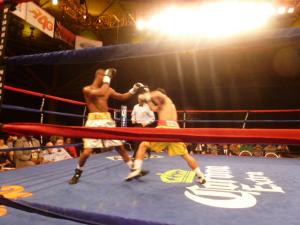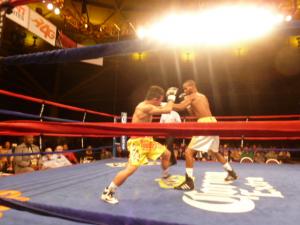 The most pleasant surprise of the evening was an excellent display of boxing by former mixed martial artist Kenneth Glenn in a unanimous decision against fellow southpaw Gavin Quinn in the 4 round swing fight broadcast between the two ESPN features. Glenn, of Minneapolis and fighting out of Brunette's Boxing in St. Paul, improved to 3-0, 1KO, landing numerous combinations to Quinn and moving well against him as he caused his nose to bleed throughout the fight. Landing to the body and following to the head, Glenn showed he is learning from trainer Al Brunette, signifying a possibility that he may be able to progress from this level. It would be nice to see how he fairs against a little stronger competition in his next outing. For Quinn's part, he was admirably tough in the fight, but his one dimensional approach did little more than prove he can take a punch.
The fight for the Minnesota lightweight title between Tony Lee and Jeremy McLaurin ended in a majority draw. I have to say, minnesotaboxing.com conducted a Facebook poll on predictions for this fight, which I found very interesting. Last week I decided to make a prediction and was going to choose Lee, but then I thought of the article I'd already written describing what each needed to do to win. I decided not to pick either. Once I chose a draw as my prediction the poll gave me the breakdown of responses and I saw that the majority chose Lee, a significant minority chose McLaurin, and I was one of three people who at that time had predicted a draw. But it made sense. Lee has just been too inactive to pull off what should have been an easy win for him. What McLaurin lacks in experience and formal skill he has made up in hard work and greater activity. Lee started out strong and was obviously in control of the fight, but even though he landed clear and effective shots he did not follow up enough and tired too much to dominate conclusively. Lee finished ahead on one card 77-75 while the other two were 76-76, proving that a little more effort could have given Lee the victory by just one point. Both fighters appeared tired and neither put an exclamation point on the final round, though, so the state lightweight title remains vacant. And well it should. To be honest about the affair, if Minnesota wants to be taken seriously around the rest of the country the state title should not be awarded unless it is decided in a 10 round fight. After all, it is for the professional championship of the state of Minnesota. Caleb Truax won the middleweight title with a 10 round fight and the respective champions in every other weight should do the same.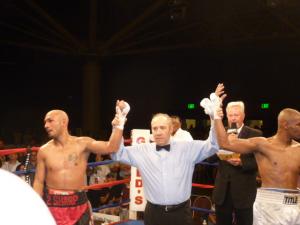 A fight that resulted in a very poor decision was the majority decision win of Charles Meier over Tyler Hultin. Meier won on two score cards by a margin of 58-56 while one judge scored it 56-56. Your boxersandwritersmagazine.com score was 59-55, Hultin. I thought Hultin took control from the first round, was able to make Meier miss and land combinations on him throughout the fight, and exhibited excellent ring generalship as he was able to establish his rhythm and move the fight to wherever he wanted to be in the ring. The fight did get closer as it progressed, though, Meier finally finding the right uppercut on Hultin, which the latter was moving into as he bobbed to his left in most exchanges. But that didn't happen till near the end of the fourth round, so I don't agree with giving that round to Meier. I concede the fifth was close enough to make a case for Meier, but even allowing him that, the fourth and the sixth (which is the only round I gave him) only brings the fight to a draw in my view. However, the fight was entertaining and if a rematch occurs I'd like to see it be eight rounds. This would make it more competitive, make it worth a few more dollars for the fighters, and would allow us to see if Meier could turn the tables more decisively in a longer fight.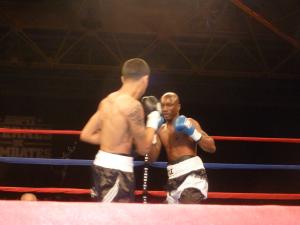 The second fight of the night was between debuting Pat Quinn of St. Paul and John Schimon, who entered the ring for the heavyweight fight with a record of 0-1. Schimon was very impressive, having dropped around 30 pounds to enter the ring at 230 while Quinn fought at an embarrassing 363 pounds. Quinn didn't belong in the ring and Schimon skillfully pelted him with left jabs, moved and caught him with combinations, and used pure grit by pushing back when occasionally pinned on the ropes. Schimon won the fight by unanimous decision with a score of 39-37 on all three score cards.
I thought Leonard Overstreet, Davenport, IA, deserved the decision for a first win against the debuting Adrian Martinez of Milwaukee, WI in a lightweight bout to open the evening. Overstreet landed effectively while Martinez had trouble finding his range and didn't seem to be able to put any power behind his jab. Overstreet was effective with the left uppercut to the liver followed by the left hook-right hand combination in the second round, but in the third Martinez finally found his rhythm and broke Overstreet's rhythm, setting and keeping his range after landing some body shots. I thought Overstreet did enough in the last round, although it was close and he didn't close it strong enough to lock a win away. Still, while the last round was close the third is the only one I gave Martinez. Now that he has his first win under his belt he'll have to put in some work to keep progressing.
By Mark Connor