On Friday, July 23, Mark Breland spoke with Boxers and Writers Magazine via telephone from his home in Brooklyn, New York. While answering questions about his celebrated professional and amateur boxing careers, as well as his experience training fighters in recent years, he spoke of his upcoming appearance in Lights Out, a new TV series on the FX channel. Breland trained the show's lead man, Holt McCallany.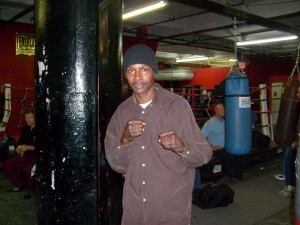 Breland, who co-starred with David Keith in the movie The Lords of Discipline before his Gold Medal performance in the 1984 Olympics, plans to return to more frequent acting in the future. Having trained McCallany for Lights Out, he was able to land a small part as the trainer of a fighter squaring off against McCallany's character, Patrick "Lights Out" Leary. That episode and the series, which deals with the effects experienced by a boxer pushing his career beyond its normal life span, should be an interesting and entertaining journey into the pugilistic world.
Accoding to FX Newtorks' web site, McCallany's character Patrick "Lights Out" Leary, is "an aging former heavyweight boxing champion who struggles to find his identity and support his wife and three daughters after retiring from the ring." The character vacilates between the desire to box again and accepting a job as a debt collector for a loan shark. Some added twists to the plot are that Leary apparently suffers from a degree of dementia caused by years of head blows, and while the family has financial problems his wife, Theresa Leary, played by Catherine McCormack (Braveheart) is a doctor finishing her medical residency. The details of the series promise an interesting dramatic exploration.
Breland's overwhelming amateur success and exceptional championship professional career—he ended with a record of 35-3-1, 25 KOs—positioned him well to train professional fighters and also share his skills outside the profession, as he's done with McCallany. He currently trains 6'-7" Heavyweight Deontay Wilder, who won a Bronze Medal at the 2008 Olympics in China. Also, Breland previously trained Lightweight Jorge Teron, and successfully trained the late World Champion Vernon Forrest for his victory over former Welterweight Champion Ike Quartey.
In 2005 I attended Gleason's Fantasy Boxing Camp as an observing journalist. Taking place at Kuscher's Country Club in the Catskills of New York, the weekend clinic included five former world champions as guest trainers. They were former Welterweight and Middleweight champion Emile Griffith, former Middleweight Champion Vito Antuofermo, former Light Heavyweight Champion Mathew Saad Muhammad, 1984 Olympic Gold Medalist and former Welterweight Champion Mark Breland, former Featherweight and Superfeatherweight Champion Juan LaPorte, and former Lightweight Champion Carlos Ortiz. It was a fun experience, and many of the White Collar boxing enthusiasts I met gave interesting interviews. Seek more about this subject here in the near future, and expect some word on Gleason's next camp in 2009.
by
Mark Connor
© Copyright Mark Connor, 2010