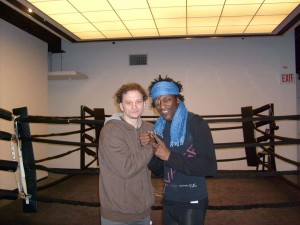 Former Middleweight Contender Michael Olajide, Jr., right, poses with Mark Connor.

In late February I traveled to New York City on business for the National Writers Union/UAW Local 1981 (www.nwu.org). Because there are so many opportunities in both the literary and the pugilistic worlds in New York, the city the great Minnesota native Bob Dylan always refers to as "the capital of the world," I arrived early and left late for union business so I could support Minnesota boxers participating in the Gleason's Masters Clinic and also meet and interview former Middleweight contender Michael Olajide, Jr. We spoke for a little over an hour on February 22at his boxing fitness gym, Aerospace High Performance Center, located at 336 West 13th Street. Here is the story:
The Making of Silk:  Michael Olajide, Jr. found the smooth road after hard times and injuries ended a world class boxing career
By Mark Connor, © Copyright 2010, Mark Connor
Michael "The Silk" Olajide, Jr. built a successful professional boxing career from December 17, 1981 through April 25, 1991, compiling a record of 27 wins, 5 losses, 0 draws and 18 knockouts. Debuting professionally as a Jr. Welterweight nine days after turning 18, he knocked out Johnny Gains, 0-1, in Vancouver, British Columbia. Olajide knocked out two more fighters who respectively had 0-1 records before fighting an 8 round battle with veteran Lightweight Al Ford, a 31-year-old with a record of 55-18-0 with 19 knockouts, who'd gone the distance in a 10 round loss to eventual Lightweight Champion Ray "Boom Boom" Mancini. Olajide won a unanimous decision, and suddenly, after only six months and less than 13 total rounds of professional boxing, he was on the road to world class competition.